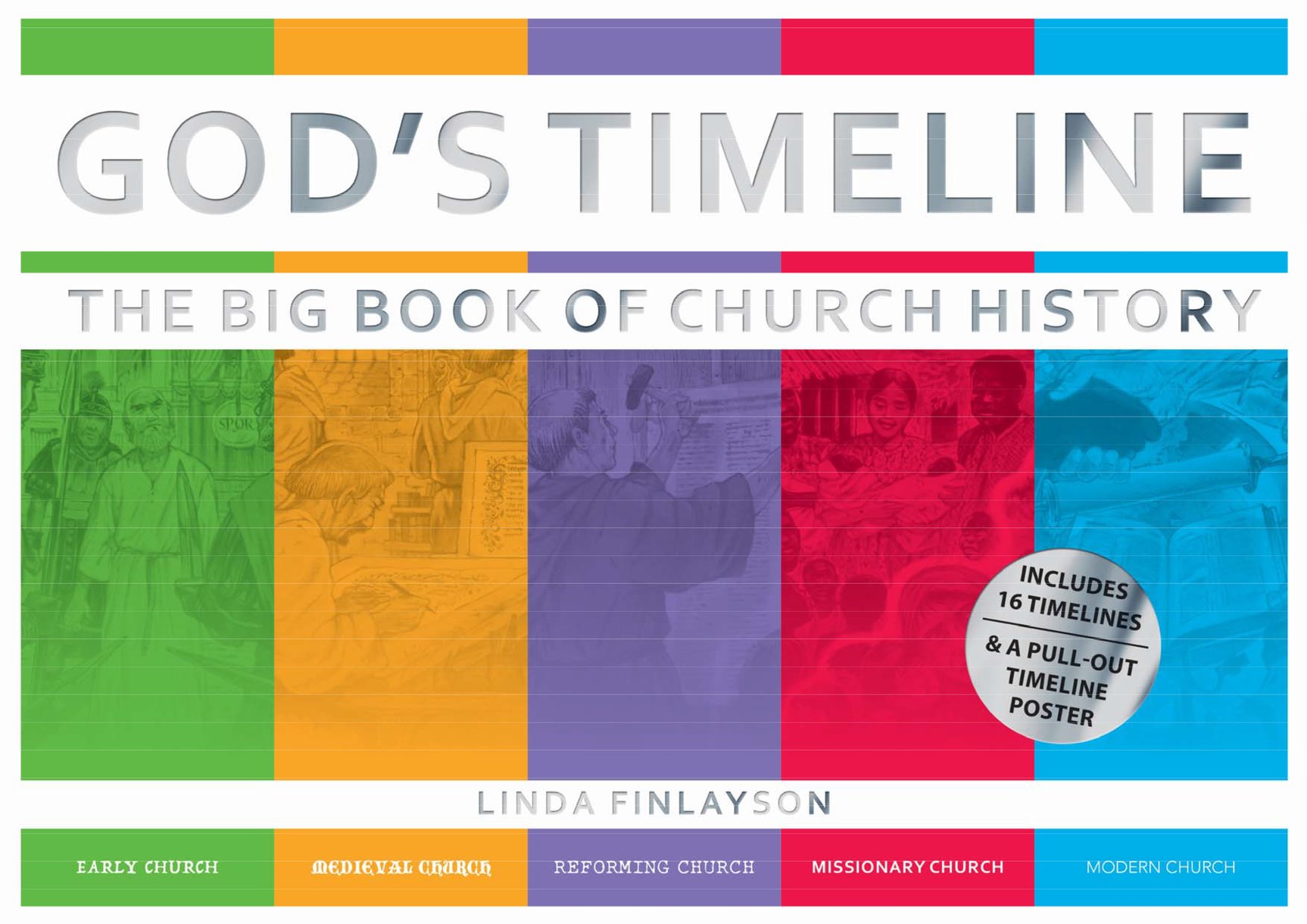 Released in the UK February 2018
Released in the US April 2018

Hardback | 80 Pages
9781527100985 • £13.99 $19.99

BISAC – JNF049170
God's Timeline
The Big Book of Church History
Linda Finlayson
Featuring pull–out, colour timelines

Illustrated throughout

Introduce your children to God's timeline
With colour illustrations, pictures, and pull–out timelines, this history book brings the church throughout the ages to life! Learn about the Early, Medieval and Missionary church, passing through key events such as the Council of Nicea and the Reformation – right through to the present day. Find out about the people God used and the impact they had on those around them – including us today!
Linda Finlayson
Linda Finlayson is an author who writes biographies and church history books for children. She has also contributed to several other books and magazines, and has spoken in schools. She works part time as the administrative assistant at her church, Cornerstone Orthodox Presbyterian Church. She lives in the Philadelphia area with her husband, Sandy Finlayson, author, librarian and professor at Westminster Theological Seminary. They have one son.
Related Titles
9781527105904
£13.99 $19.99
CF4Kids
Linda Finlayson has done it again! She's given us a book that not only clearly describes the basic contours of Church History, but also one that draws us in with vivid illustrations and timelines. I want this in the hands of my own children and in the hands of the children of our church. I know I'll be buying copies for other friends and relatives as well. It is an excellent introduction to an important and oft-neglected topic - the work of God in the history of Christ's Church.
Jonathan Master
President, Greenville Presbyterian Theological Seminary, South Carolina
Linda Finlayson has written an amazing resource for families. Using clear timelines, engaging illustrations, and theological precision, God's Timeline traces church history from its small beginnings to its worldwide impact. The entire family can learn together about the various people, creeds, and disputes that have shaped the church for the past 2000 years.
Melissa B. Kruger
Conference speaker, Women's Ministry Coordinator, Uptown Church, Charlotte, North Carolina
This unique and creative collation of infographic timelines that map out the contours of church history is a welcome tool for both younger and older students of the history of God's people... a tremendous means of understanding the vast work of God in times past and how the Faith has been passed down to us.
Michael A. G. Haykin
Professor of Church History and Biblical Spirituality, The Southern Baptist Theological Seminary, Louisville, Kentucky
This book is a treasure trove of exciting stories and factual information. There is no more important and compelling story in modern history than that of the Church, the people of God saved through the work of Jesus Christ. Linda Finlayson covers 2,000 years of action-packed, global history in a way that is both clear and comprehensive. 'God's Timeline' should be a required text in Christian schools and in homeschooling curriculums.
Timothy Larsen
McManis Professor of Christian Thought, Wheaton College, Wheaton, Illinois