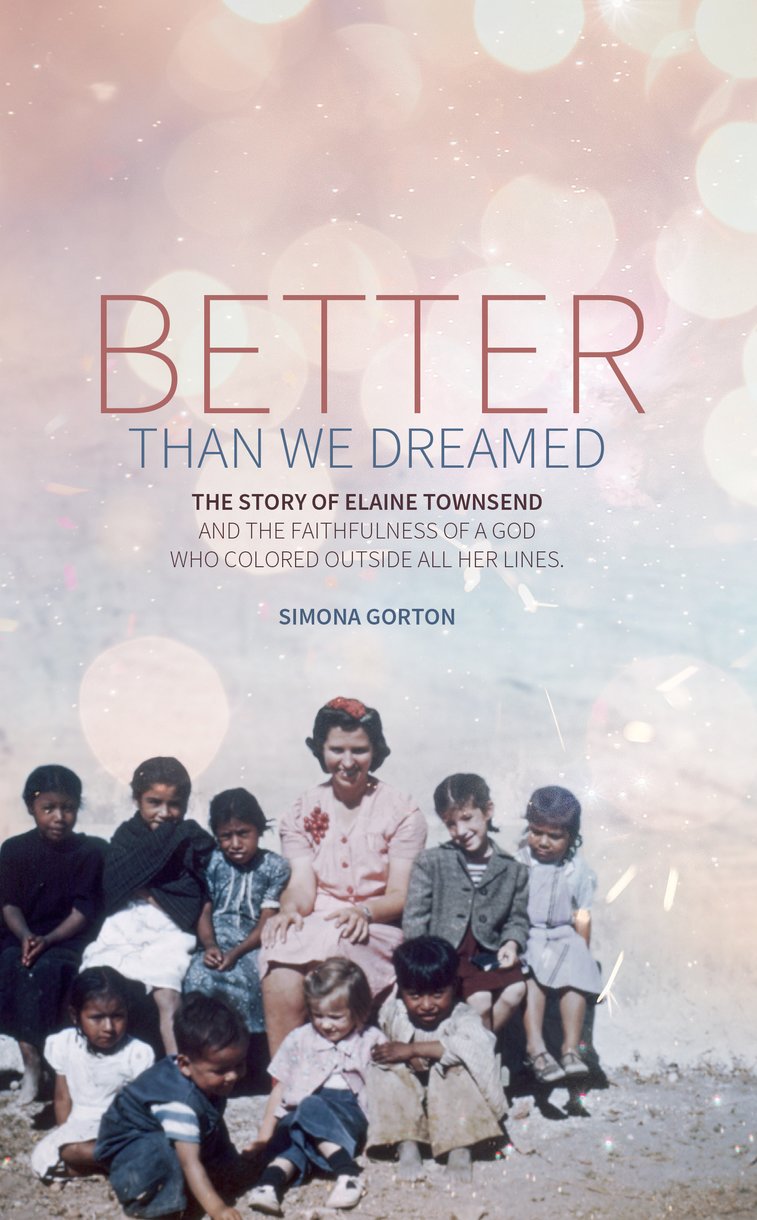 Released in the UK December 2018
Released in the US March 2019

Large trade paperback | 304 Pages
9781527102668 • £9.99 $14.99

BISAC – BIO018000
Better Than We Dreamed
The Story of Elaine Townsend
Simona Gorton
Biography of the Wife of the Founder of Wycliffe Bible Translators

Inspirational Story of a Life Committed to God
Read the story of a life lived safely within the lines, that God turned upside down. From social star of 1930's Chicago to a Wycliffe missionary in South America and the USSR, Elaine Townsend's life was far from boring. Meet the woman who became Cameron Townsend's wife, and discover how a life can be filled with adventure, by simply saying 'yes' to God.
Both encouraging and challenging, this thorough biography leads the reader to rightly recognise Elaine Townsend as one of the great Christian women of the 20th century – a demonstration of what God can do with a willing heart.
Simona Gorton
Simona Gorton is a writer, photographer, traveller, wife, and an international operations manager for 9Marks.
Related Titles
9781781919675
£6.99 $9.99

9781781915837
£9.99 $15.99

9781857922233
£7.99 $14.99
Christian Focus
I highly recommend the story of Elaine Townsend's life. When one thinks of Wycliffe's story, one immediately associates it with Cameron Townsend. But as one reads 'Better Than We Dreamed', it is evident that without Elaine serving and sacrificing side by side with her husband, Wycliffe would not be what it is today. Tens and tens of thousands will one day—on that Great Day, rise up and call her blessed.
Elliott Tepper
Founder and Director of Betel (WEC) and Pastor of Iglesia Betel, Madrid, Spain
Elaine Townsend, wife of the founder of Wycliffe Bible Translators, lived an eventful and inspiring life in service to her Lord and ours. Simona Gorton's biography captures her unique personality and her love for the Savior in a delightful way. While this book will be an encouragement for women, young and old alike, men would be wise to read it as well.
Keith Mathison
Professor of Systematic Theology, Reformation Bible College, Sanford, Florida
This delightfully written and meticulously researched narrative traces her footsteps around the globe, recalling her life of devotion to Cameron and her indefatigable zeal in proclaiming the mission of God to the world. May her earnestness and joy be an encouragement to all.
Stephen J. Nichols
President, Reformation Bible College, CAO Ligonier Ministries, Sanford, Florida
This moving biography chronicles the life of one of the most impactful figures in modern missions and challenges readers to be like her: eager to see God's Word spread, faithful in pursuing the work, and humble before the sovereign God who accomplished it.
Bob Creson
President / CEO, Wycliffe Bible Translators USA