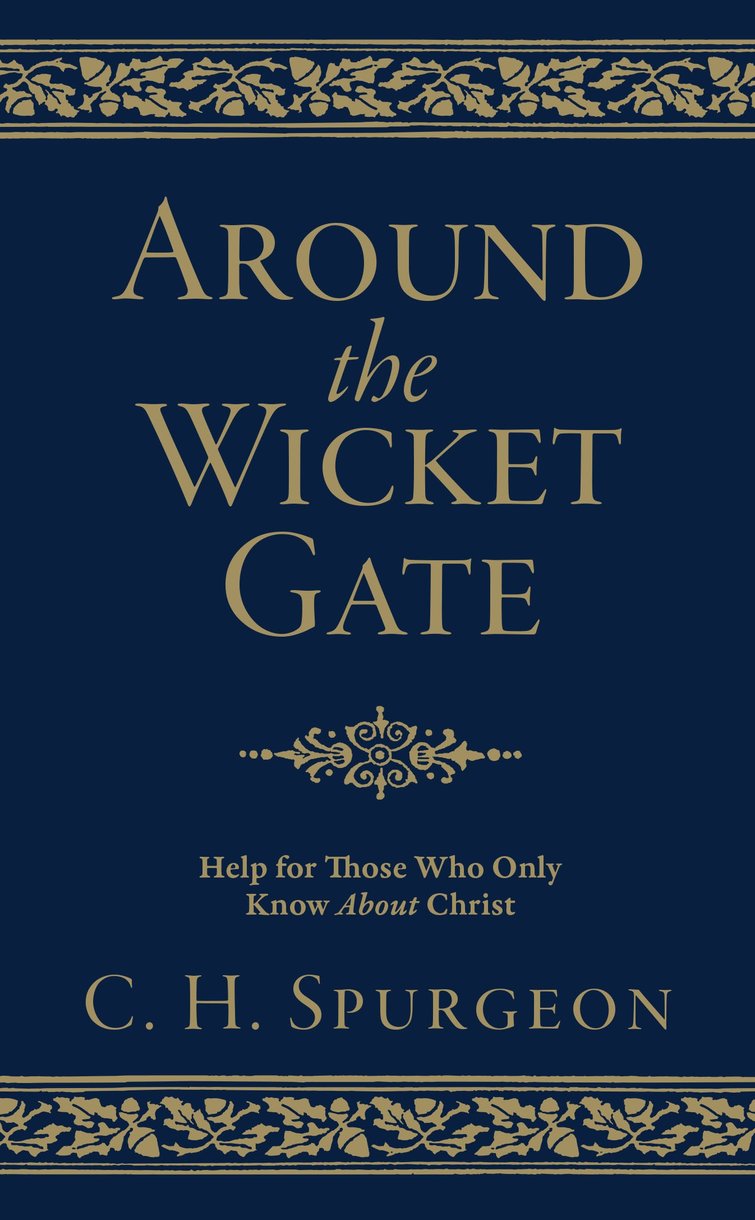 Released in the UK May 2019
Released in the US May 2019

Pocket hardback | 84 Pages
9781527103412 • £7.99 $10.99

BISAC – REL067100
Around the Wicket Gate
Help For Those Who Only Know About Christ
C. H. Spurgeon
Hardback gift edition of Spurgeon's classic

For those who have yet to put their faith in Christ

Includes original etchings
The greatest of all tragedies must be that of the person who dies just outside the gate of life. They are standing, as it were, just outside the wicket gate to the church grounds – seeing the beauty of the building, knowing the people going in – but not stepping over the threshold themselves. Almost saved but altogether lost.
This is a book of immeasurable value to those who have some knowledge of the Christian Faith but who are resisting God's call to commit their lives to him. No Christian should be without a copy, to either lend or give away to a friend or acquaintance who may be lingering at the gate.
C. H. Spurgeon
C. H. Spurgeon, the great Victorian preacher, was one of the most influential people of the second half of the 19th Century. At the heart of his desire to preach was a fierce love of people, a desire that meant he did not neglect his pastoral ministry.
Related Titles
9781781913079
£5.99 $8.99

9781845509774
£6.99 $10.99

9781845504212
£9.99 $15.99

9781857928044
£8.99 $12.99
Christian Heritage
If you grew up with a vague familiarity with Christianity, but it never meant much to you, read this book. Like no one else, Spurgeon lays out the simplicity, the power and the truth of the good news of Jesus. This classic gospel appeal … may be life–changing for you.
John Folmar
Senior Pastor, United Christian Church of Dubai
… combines razor–sharp spiritual diagnoses, timeless and helpful illustrations, and a clear route back to Jesus Christ as the only source of personal freedom, forgiveness and future hope.
Alasdair MacLeod
Minister, Smithon Church, Inverness, Scotland
With … deep and profound simplicity, Spurgeon adorns every page of this evangelistic booklet. Read this book for your own edification and give it to a lost friend for a clear explanation of the gospel and an earnest and friendly appeal to believe.
Tom J. Nettles
Former Senior Professor of Historical Theology, The Southern Baptist Theological Seminary, Louisville, Kentucky
… one of the most famous books that the kind, loving, extraordinary Christian, C. H. Spurgeon, ever wrote. If you are just mildly interested in what is a Christian and how people become followers of Jesus Christ, then there is no more straightforward and fascinating book for you to read but this.
Geoff Thomas
Conference Speaker and author, Aberystwyth, Wales