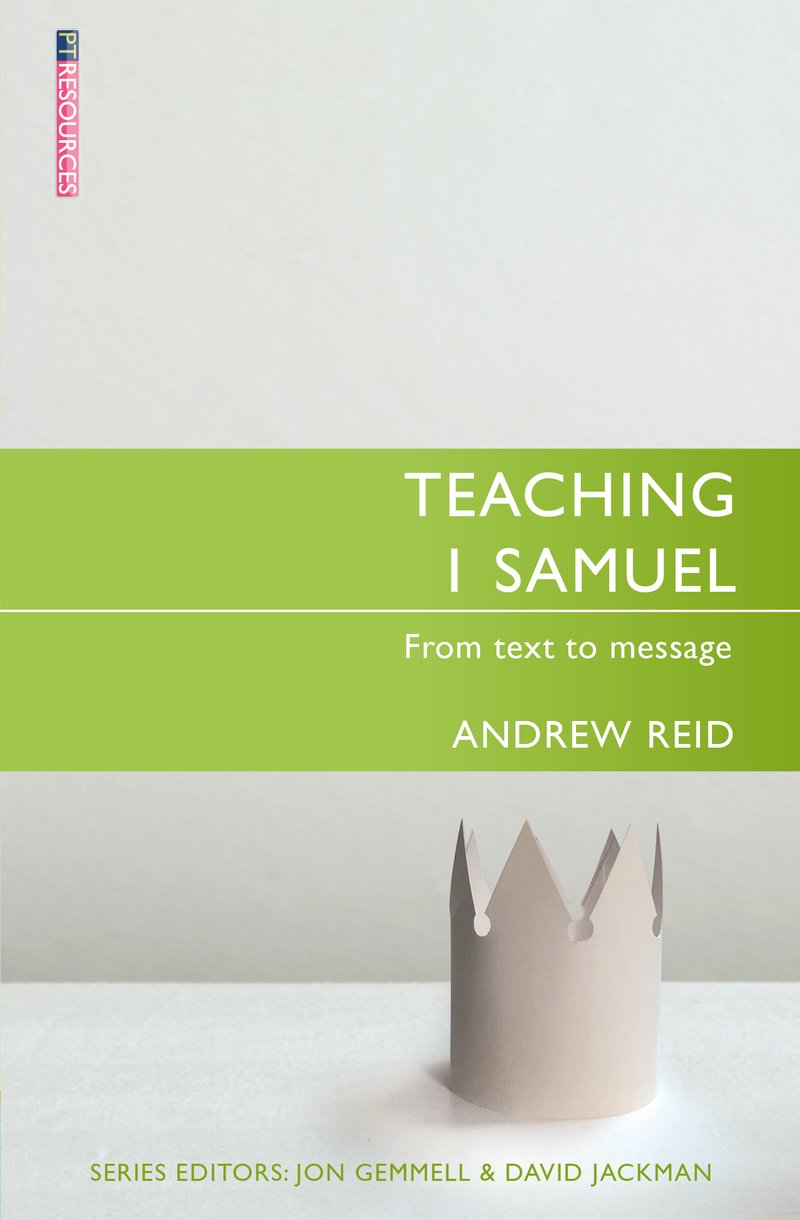 Released in the UK July 2020
Released in the US July 2020

Trade paperback | 368 Pages
9781527105324 • £10.99 $14.99

BISAC – REL006210
Teaching 1 Samuel
From Text to Message
Andrew Reid
22nd book in Teaching series

Help preachers teach 1 Samuel

Kingship of David
The book of 1 Samuel is a blockbuster. One of the most well–known books of the Old Testaments, its gripping narrative is dominated by big characters. Andrew Reid helps preachers get a handle on the vital part it plays in the unfolding story of the Bible.
Andrew Reid
Andrew has been the National Director of the AFES, board member of TGC Australia and has pastored churches in three States of Australia. He is currently the founding Principal of Evangelical Theological College of Asia, which is based in Singapore and seeks to produce a new generation of able biblical expositors and pastor–teachers for churches throughout Asia.
Related Titles
9781527101579
£8.99 $14.99

9781845501426
£7.99 $12.99

9781845505653
£8.99 $14.99
Christian Focus
It is so good to have the fruit of Andrew Reid's study of 1 Samuel now applied to how to be preaching this Old Testament book. Here we have an experienced guide helping us study God's Word carefully: there are no pre–packaged sermons (or Bible studies), but instead you will find yourself motivated to look again at the biblical text more carefully. I think the book is worth reading even for the 'Listening to the Whole of Scripture' sections in each chapter alone.
Neil Watkinson
International Director, Proclamation Trust
This is an excellent book in a great series. It will foster preaching that is firmly grounded in the text, richly theological and viewing the book as an important part of Christian scripture. It is biblical theology at its best. Andrew does not try to read Christ into the book of 1 Samuel, but rather discerns the message of book and then shows how our understanding of this must be shaped by the coming of Christ. There are great insights here about why we should teach from these rich narratives. He builds on his earlier commentary and a lifetime of powerful preaching to provide a major resource for the church as it gathers around the word. It contains great practical help and advice aimed at both preachers and bible study leaders. This book is pure gold, making it a 'must have' if you want to teach others how to teach God's truth from narrative.
Lindsay Wilson
Senior Lecturer in Old Testament, Ridley College, Melbourne
The Scriptures urge us to delight in God's words and meditate on them. In this book we see the wonderful results of such delight and such meditation over many years. Andrew Reid generously shares his insights into the text of 1 Samuel, enriched by biblical theology, and with practical advice for preachers and Bible study leaders. Not a word is wasted, and just the right amount in information is provided. A good book for personal Bible study, as well as for those who preach and teach.
Peter Adam
Vicar Emeritus, St Jude's Church, Carlton, Victoria, Australia
… blends the fruit of serious academic study and countless gems of wisdom for expounding this important book. While not spoon–feeding his readers, Andrew provides much theological and practical assistance for the expositor and Bible study leader. Teaching 1 Samuel will make you want to do it. Indeed, anyone who reads Andrew's book can have little excuse for making a mess of an exposition of 1 Samuel.
Mike Raiter
Director of the Centre for Biblical Preaching & author of several books