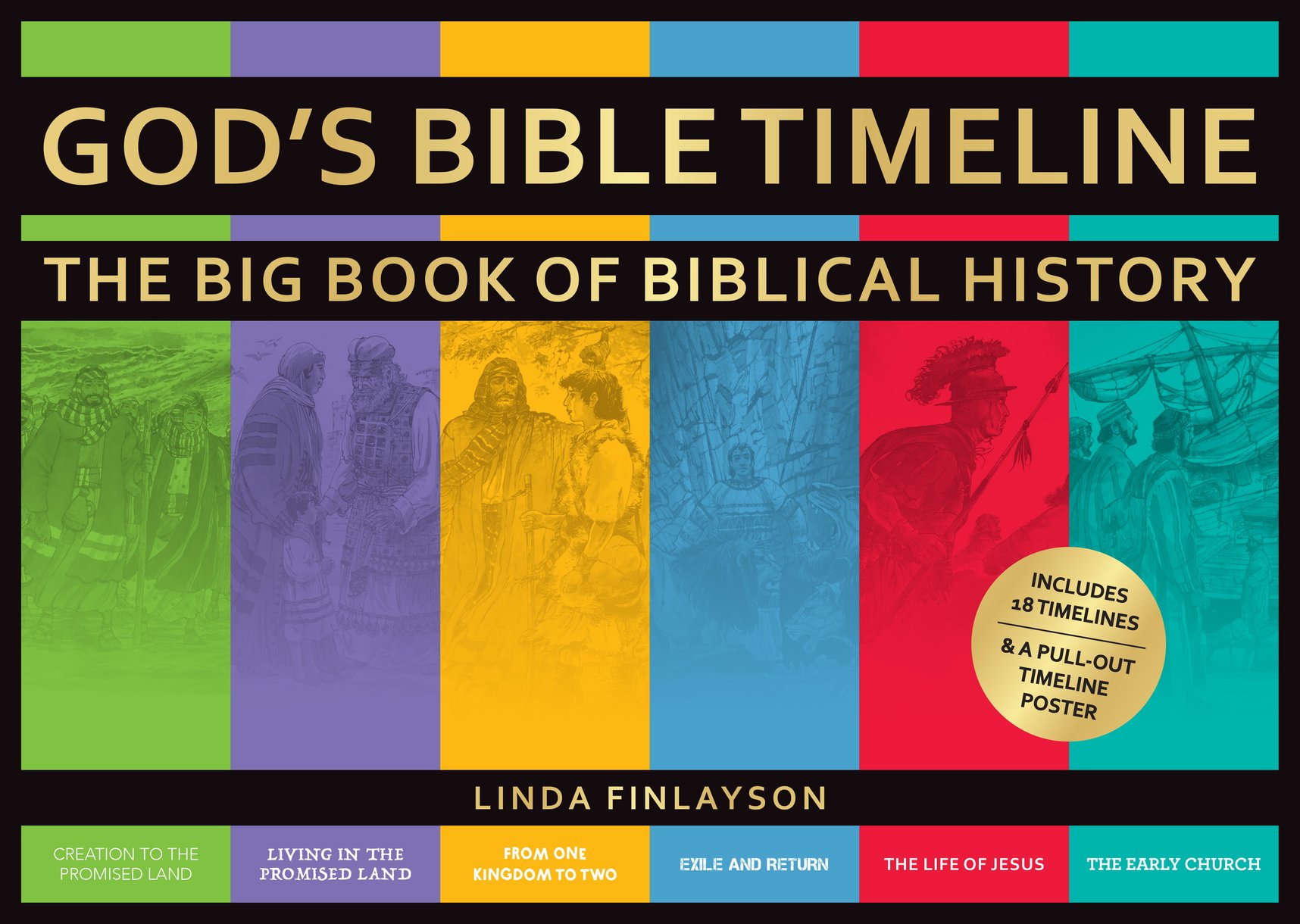 Released in the UK November 2020
Released in the US November 2020

Hardback | 96 Pages
Read to me: 6–8
Read Myself: 8–12
9781527105904 • £13.99 $19.99

BISAC – JNF049170
God's Bible Timeline
The Big Book of Biblical History
Linda Finlayson
Partner book with 'God's Timeline'

Follows chronology of the Bible

Highlights promise of the Messiah and God's covenants
With colour illustrations, pictures, and pull–out timelines, this history book brings the whole Bible to life! From Genesis to Revelation, from the beginning of time to the early church, from the first promise of a Saviour to the promise that one day that Saviour will return – this book spans all of time. Find out about how the God of all time spoke to his people and still speaks today through his Word.
Linda Finlayson
Linda Finlayson is an author who writes biographies and church history books for children. She has also contributed to several other books and magazines, and has spoken in schools. She works part time as the administrative assistant at her church, Cornerstone Orthodox Presbyterian Church. She lives in the Philadelphia area with her husband, Sandy Finlayson, author, librarian and professor at Westminster Theological Seminary. They have one son.
Related Titles
9781527100985
£13.99 $19.99

9781527104280
£12.99 $16.99

9781527101760
£7.99 $12.99
CF4Kids
This lovely and well-organized book will be a great help for people young and old to fit together the pieces of the history of God's saving works so that they can see more clearly what God has accomplished in his Son.
Joel R. Beeke
President, Puritan Reformed Theological Seminary, Grand Rapids, Michigan
No doubt, this is a book you will go to again and again in answering your children's many questions about God's saving message. Parents, get yourself a copy. You cannot go wrong when you invest in this kind of spiritual instruction for your children. The rewards will outlive you!
Conrad Mbewe
Pastor of Kabwata Baptist Church and first Chancellor of the African Christian University, Lusaka, Zambia
This book looks to be a most suitable help for all wanting to understand the flow of God's salvation history.
Peter Barnes
Pastor, Author, Lecturer, Revesby Presbyterian Church, Revesby, New South Wales, Australia
Here is a 'Big Book' on big stuff. Paul says that God's ways are 'untrackable'—and they are, but he has left some of his 'tracks' in redemptive history and Linda Finlayson has pursued them in this attractive, colourful, vibrant tome, in which she has pulled together the strings of biblical history and in such concise form has placed them in your lap.
Dale Ralph Davis
Respected Author and Old Testament Scholar