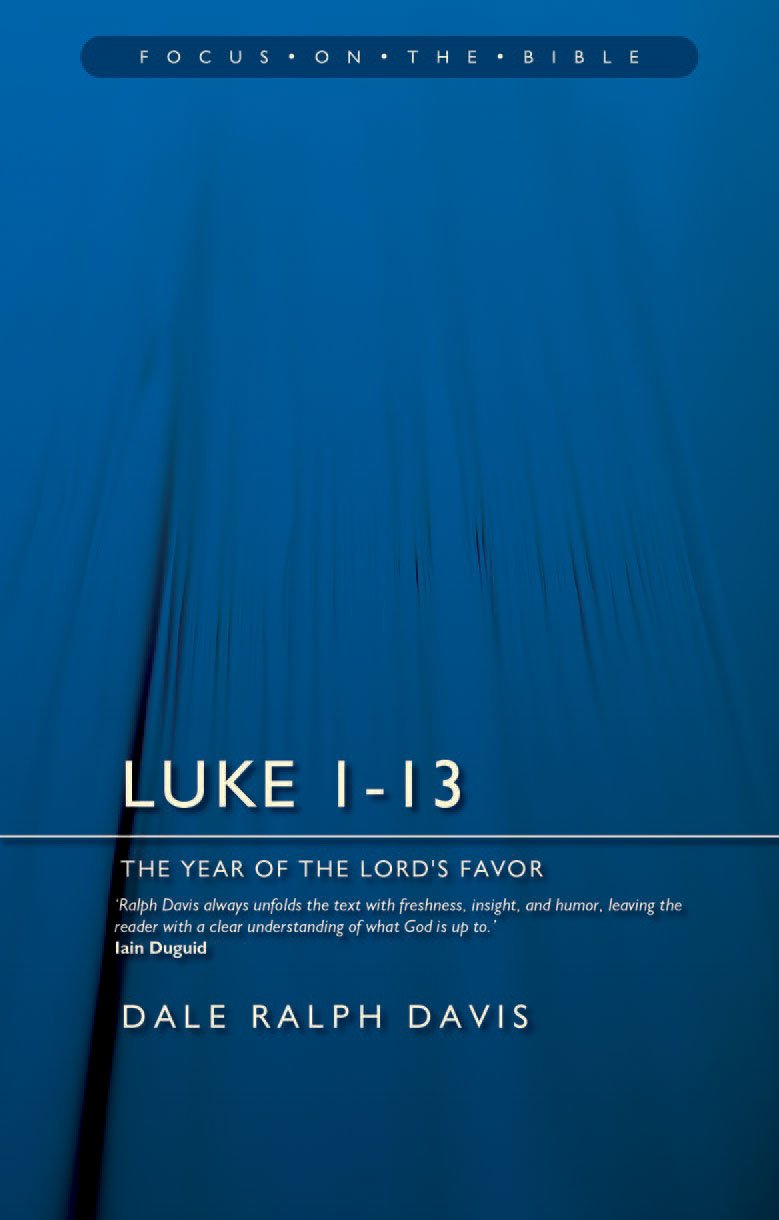 Released in the UK January 2021
Released in the US January 2021

Large trade paperback | 264 Pages
9781527106383 • £14.99 $19.99

BISAC – REL006800
Luke 1–13
The Year of the Lord's Favour
Dale Ralph Davis
2–part commentary on Luke

By esteemed biblical scholar

For laypeople
Esteemed biblical scholar Dale Ralph Davis examines the treasure to be found in Luke's gospel. His humor and love for his Saviour shine through in this addition to the Focus on the Bible series. Taking a few verses at a time, the exegesis draws the reader into the fascination that Luke has for this man Jesus. Volume one covers chapters 1–13 of Luke, while volume two covers chapters 14–24.
Dale Ralph Davis
Dale Ralph Davis was Minister in Residence, First Presbyterian Church, Columbia, South Carolina. Prior to that he was pastor of Woodland Presbyterian Church, Hattiesburg, Mississippi and Professor of Old Testament at Reformed Theological Seminary, Jackson, Mississippi.
Related Titles
9781845501372
£9.99 $15.99

9781781918616
£8.99 $14.99

9781781916445
£8.99 $14.99

9781527104792
£9.99 $14.99
Christian Focus
Davis not only informs your mind (helpful technical footnotes are included on the bottom of the pages); he feeds your soul, fills your heart, and moves you to praise and thank God for the one who came to seek and to save the lost (Luke 17:10).
Steve Jussely
Senior Pastor, Lakeland Presbyterian Church (PCA), Flowood, Mississippi and Former Adjunct Professor of Homiletics, Reformed Theological Seminary
… practical, scholarly, whimsical, logical, shrewd, humorous, insightful, creative, thoughtful, gripping. But best of all it is true to the text and intent of Luke's Gospel and its focal point, Jesus Christ. Davis wonderfully combines a scholar's skills and wisdom with a storyteller's knack and a pastoral heart.
Robert W. Yarbrough
Professor of New Testament, Covenant Theological Seminary, St. Louis, Missouri
Brimming with insightful exegesis, theological depth, vivid illustration and pastoral application, these two volumes are vintage Dale Ralph Davis. Whether you use them in personal devotion, or a small group, or as a preacher seeking to teach your congregation, this engaging journey through Luke's gospel will be a very useful and edifying guide.
Reuben Hunter
Pastor, Trinity West Church, London
… here is a scholar (he is a ninja in the original languages) and a convicted pastor and a winsome believer. In Dr. Davis' Luke exposition, your eye is drawn to authorial intent and your heart is drawn to the matchlessness of Christ.
Austin T. Duncan
Professor of Pastoral Ministries, Director of D.Min Studies, Director, The MacArthur Center for Expository Preaching, The Master's Seminary, Los Angeles, California