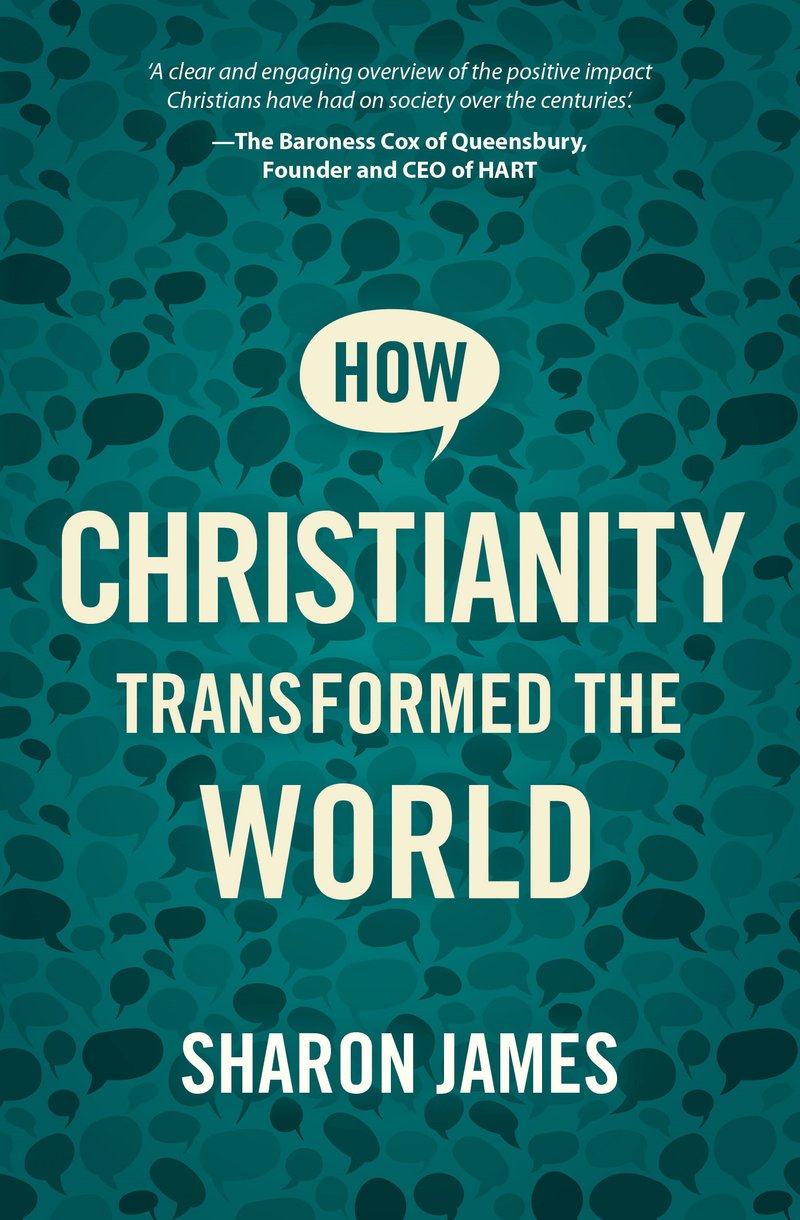 Released in the UK March 2021
Released in the US March 2021

Trade paperback | 208 Pages
9781527106475 • £7.99 $12.99

BISAC – REL108020
How Christianity Transformed the World
Sharon James
The positive influence of Christianity on society

A different theme in each chapter

Christ's triumph throughout history
Many people today would say that Christianity has done more harm than good to our world. Sharon James argues, however, in seeking to love their neighbour and reflect God's moral character the followers of Jesus have had a largely positive impact on our society. James takes a number of areas – education, healthcare, justice, human dignity – and traces the ways in which these benefits have spread with the gospel.
Sharon James
Sharon James has written several books, and has spoken in conferences in many parts of the world. She studied history at Cambridge University, theology at Toronto Baptist Seminary, and has a doctorate from the University of Wales. Sharon is married to Bill, Principal of London Seminary. They have two grown–up children. She works for The Christian Institute. For more information, visit: https://www.sharonjames.org/
Related Titles
9781527104815
£8.99 $12.99

9781527101517
£4.99 $7.99

9781781916117
£4.99 $7.99

9781781917756
£7.99 $12.99
Christian Focus
I would commend this book to young people studying A level history as well as Christian teachers. It would also be a helpful read for anyone who wants to find out how the Bible, Christians and Christianity have impacted our world for the good. You will be greatly encouraged.
Naomi Oliver
Emmaus School, Trowbridge, UK
… an engaging read and leaves you wanting more …
Richard Turnbull
Director, Centre for Enterprise, Markets and Ethics, Oxford
… if you've been influenced to believe that the Christian gospel is a virulent intellectual infection that should be eradicated, that it robs people of joy and freedom, that it oppresses women and makes its heavenly–minded adherents of little earthly good, then you very much need to read this book.
Jon Bloom
President, Desiring God, Minneapolis, Minnesota
This book is a splendid tonic for anyone who has become jaded by the anti–Christian bias which is so common today. Sharon James has given us an excellent introduction to the history of how the church and individual Christians have 'gone about doing good' over twenty centuries.
Evangelical Times