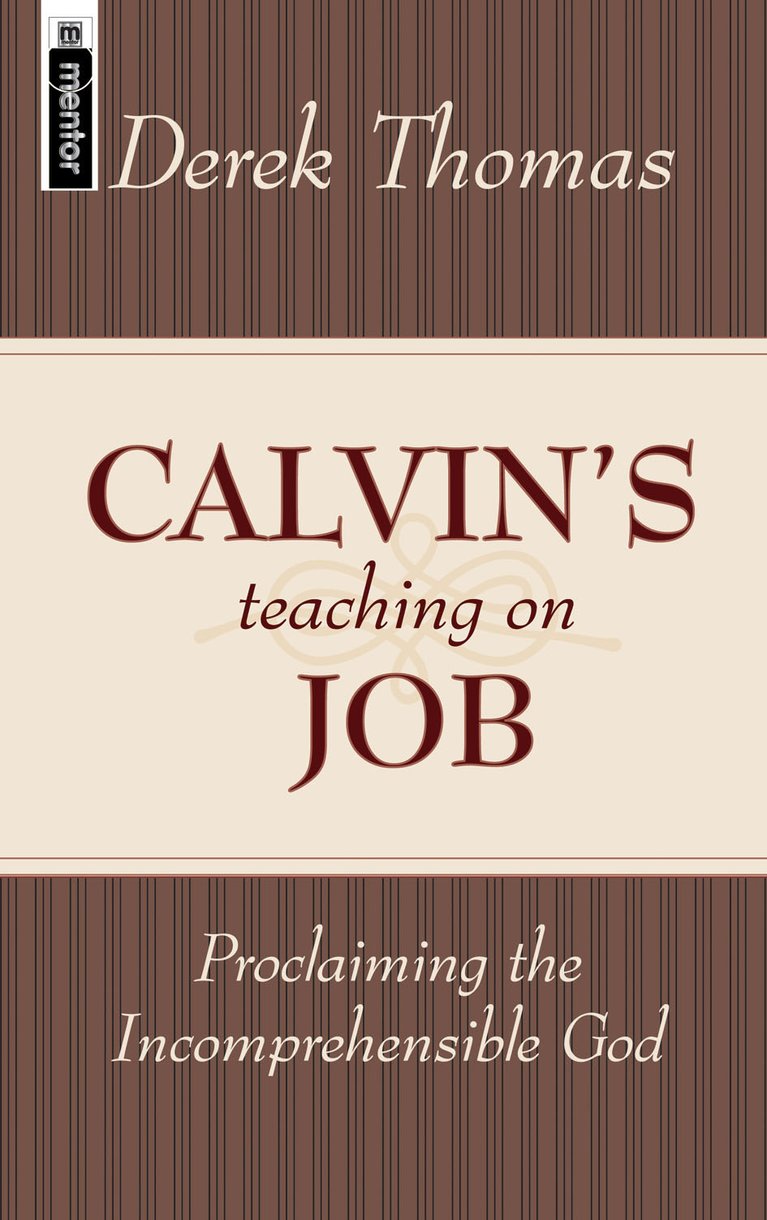 Released in the UK January 2004
Released in the US March 2004

Large trade paperback | 416 Pages
9781857929225 • £19.99 $34.99

BISAC – REL093000
Calvin's Teaching on Job
Proclaiming the Incomprehensible God
Derek Thomas
For many of us the book of Job stands directly in the centre of one of the most complicated problems of life - the interaction between divine sovereignty and human responsibility. Its implications for a world of suffering and injustice is one that has provoked much tortuous thought for both Calvinists and Arminians.
How Job deals with tremendous suffering - losing most of his earthly possessions, family and health - and how God deals with Job's suffering, does not necessarily make a nicely packaged story.
The issues Job faced are ones that all Christians will struggle with to one degree or another.
Calvin is still an influential theologian and was an excellent preacher. Derek Thomas uses Calvin's sermons on Job as a model for preachers today.
Derek W. H. Thomas
Derek W. H. Thomas, originally from Wales, is the Senior Minister of First Presbyterian Church, Columbia, South Carolina and Chancellor's Professor of Systematic and Pastoral Theology at Reformed Theological Seminary. He is also a Teaching Fellow with Ligonier Ministries. He previously served as the Minister of Teaching at First Presbyterian Church and the Chairman of the Theology Department at Reformed Theological Seminary, Jackson, Mississippi.
Related Titles
9781857923766
£13 $20

9781527104228
£8.99 $12.99

9781527100909
£9.99 $14.99

9781845507008
£9.99 $15.99
Mentor
...a valuable resource to both the Genevan Reformer and a difficult OT book. Thomas examines Calvin's work not only in a scholarly way, but also in a spirit that will promote the preaching of this neglected book of Scripture. His preaching of a book which has so much to say to the people of God as they endure trials is most valuable, and in Derek Thomas we have an able guide to Calvin's work.
David McKay
Professor of Systematic Theology, Ethics and Apologetics, Reformed Theological College, Belfast, Northern Ireland
Calvin's sermons on Job are a fascinating part of his voluminous heritage. Derek Thomas' able exposition guides us through some of the key issues raised by the text. His work contains valuable lessons both for the understanding of Calvin and for the task of preacher today.
Anthony N. S. Lane
Professor of Historical Theology, London School of Theology, London
"Thomas leads the reader systematically through Calvin's thoughts as he wrestled the book of Job expositionally and also real-life answers to the most perplexing questions in the Christian life. It's a book that I will come back to time and time again when my own soul and the souls of others ask the question 'Why?'"
Tony Reinke
Writer for Desiring God & author of Lit!
'The book of Job is included within the canon of Scripture, not to perplex, or provoke debate, but for proclamation... Yet relatively few preachers feel comfortable doing that! In these pages a preacher-theologian guides us through the sermons of one of the greatest preacher-theologians of church history... The end product is to pave the way for Job to be used more powerfully and practically in the pulpit. In so doing it will open this book for all who struggle with suffering and the problem of evil.'
Mark Johnston
Minister, Bethel Presbyterian Church, Cardiff, Wales